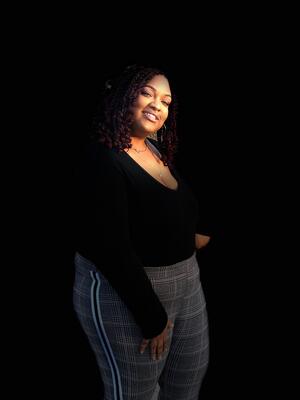 By Taylor Ann Mazique, GWS Student Public Outreach Employee
Dionne Lipscomb, a Gender and Women's Studies 2019 GWS alumni, says that she found a home inside of the GWS department. Dionne first came to the University of Illinois as a transfer student majoring in English but found herself wanting to branch out into a field that was more aligned with her learning interests. 
"When I first came to UIUC as a transfer student, I was an English major. I liked it at first, but I grew so tired of it. I didn't enjoy what I was learning and it wasn't what I thought it would be. I found myself feeling like I was drowning... in that major...When I made my schedule for junior year I decided to branch out a little and take some different classes. I decided to take a GWS class not knowing how much it would change my life. I remember the first GWS class I took. It was GWS 100 with Professor Toby [Beauchamp] (love him!). That was a very tough semester for me personally but as I was learning the topics, I found myself loving what I was reading and learning."
Dionne describes her first experience with GWS and a GWS education as something that really spoke to who she is as a person. "I felt like I was actually learning about me. I thought to myself 'this is what I want to learn. This is what I came to college for!'" After her impactful time in Professor Beauchamp's GWS 100 course, Dionne changed her major to Gender and Women's Studies and has been reaping the benefits ever since.
The Department of GWS puts in substantial effort to create a space and climate that welcomes everyone who enters and this feeling of belonging was not skipped when it came to Dionne's experience with the GWS department. Dionne's favorite aspect of the GWS family was just that: it was a family. Dionne says that she "felt like I was at home in GWS. I could talk to my professors and counselors about anything and everything. I enjoyed them both inside and outside of my classes, and I enjoyed my classmates as well." In addition to finding a warm and welcoming home within the GWS department, Dionne also credits the GWS family with helping her embrace her true self as well as discovering fields and topics that are important to her within and outside of academia.
After changing her major to GWS, Dionne says that "being in GWS my final two years at UIUC really helped me find myself. . . It also helped me open up about my sexuality. I have now been with my girlfriend for a little more than a year now, and I feel so great about our relationship. I've never felt more like me in a very long time." In addition to the astonishing amount of self-love and personal gains that Dionne gained from being a GWS major, she also notes that GWS led her to her current and future field of further study as she is "currently doing a lot of research on the power of being a black woman, and researching many black women before my time." The experiences and opportunities that Dionne gained as a GWS major deeply impacted her future professional goals as well and she is currently planning to continue her education. "I am leaning towards Human Resources and I feel like GWS has given me the tools to help with helping people who look like me and come from the places I have come from...It will be so powerful to grant people a job when others won't because of their race, gender, or sexual orientation. I have also been thinking about social work as well, for some of the same reasons."
When it comes to her professional journey, Dionne is also very appreciative of her GWS degree because it taught her "critical thinking and how to ask good questions... I didn't know how much it would help me until now. It helps a lot in my current position, and it is something I will carry with me to grad school." Reflecting on her time as a GWS student, Dionne also thinks about all of the tools that her GWS courses equipped her with and how she utilized them during her time as an undergraduate student. Dionne urges all GWS undergraduates to make sure that they "take advantage of the internship course and finding opportunities before graduating. Don't wait until after you graduate to find a job because honestly, the job market is not easy. Start looking NOW! Let people know what GWS is and the strength you have gained from your courses such as research, writing, and critical thinking." 
When talking about the skills that she's gained from GWS, Dionne highlights the strengths, such as critical thinking, research, and writing, being highly marketable in every job field. Dionne hopes that all GWS students always remember that "You are a PRIZE, and don't settle for anything less than what you deserve," because of how important a GWS lens is to every job field. With the preparations and skills that she has gained with her GWS degree, Dionne knows that regardless of what professional path she chooses, her GWS degree will guide her to excel in any field while centering the power of Black women in her work and career.