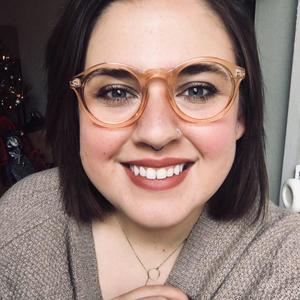 Aubree Henderson is a therapist-in-training turned nonprofit professional based in Brooklyn, New York. A Champaign-Urbana native, Aubree earned a Bachelor's degree in Gender & Women's Studies and Psychology at the University of Illinois at Urbana-Champaign in 2013. She went on to earn her M.Ed in Counseling & Human Development from Vanderbilt University in Nashville, Tennessee, where she worked primarily with adults in recovery from substance abuse.
After completing her graduate studies, Aubree relocated to New York City in 2015. Ready for a career shift, she translated her skills of emotional intelligence, relationship building, and interpersonal communication into roles supporting C-level nonprofit leaders. This landed her at iMentor, a national education nonprofit that matches first-generation college students with college-educated volunteer mentors. Since joining iMentor in 2015 as a Special Assistant to the Executive Team, her role has evolved and she now works as the Director of the Regional Office, serving as a right hand and advisor to iMentor's Chief Regional Officer. In this role, Aubree supports performance management, internal communication, and operations of iMentor's programs across the country, including expansion of the iMentor program to new cities.
Aubree lives in Greenpoint, Brooklyn with her wife, Laura. They are foster parents to two amazing kids, a preschooler and a kindergartener.
How did your GWS major or minor influence you? 
My GWS major has influenced pretty much everything about my life – it's a lens through which I now view and analyze the world. Personally and professionally, I am committed to ensuring that my feminism and politics are intersectional, and that I move through the world with an awareness of my own privilege – while I continue to learn and grow in my awareness, I owe much of this to my GWS education.
What accomplishment are you most proud of so far and why? 
At iMentor, I've been involved in our work around organizational diversity, equity, and inclusion, and am a member of the org's Equity Leaders group. As a part of this initiative, I co-founded iMentor's first identity-based affinity group for lgbtqi+ staff members in 2018, and have grown the group from 2 members to 23 members in one year. Since founding our affinity group, the organization has introduced 5 other affinity groups for staff members to find community around a shared identity. I feel incredibly proud to have co-created a space where staff members can feel authentically themselves and connect with others who share a piece of their identity.
What is your favorite memory of GWS?
The thing that makes GWS so special is how truly interdisciplinary the degree program is. I was able to take courses in world literature, anthropology, fashion, psychology, African-American studies, and more – all with the common thread of gender and sexual identity. I still vividly remember attending my first ever undergraduate class, Sexuality & Literature (Mondays, Wednesdays, & Fridays at 9am – what on earth was I thinking?!) and walking out in absolute disbelief that I was earning course credit to read awesome books and talk about them!
Any advice for current GWS majors and minors?
Remember that your degree is unique and sets you apart! I find myself talking about my GWS courses and projects in my day-to-day professional and personal life all the time – I continuously hear that mine was the college experience that so many people wish that they could have had. I am so proud and grateful to have studied in a program that valued so many schools of thought and fields of study through a truly intersectional and critical lens. I took classes that I loved and that stuck with me forever. This degree is one that I am proud of every single day!