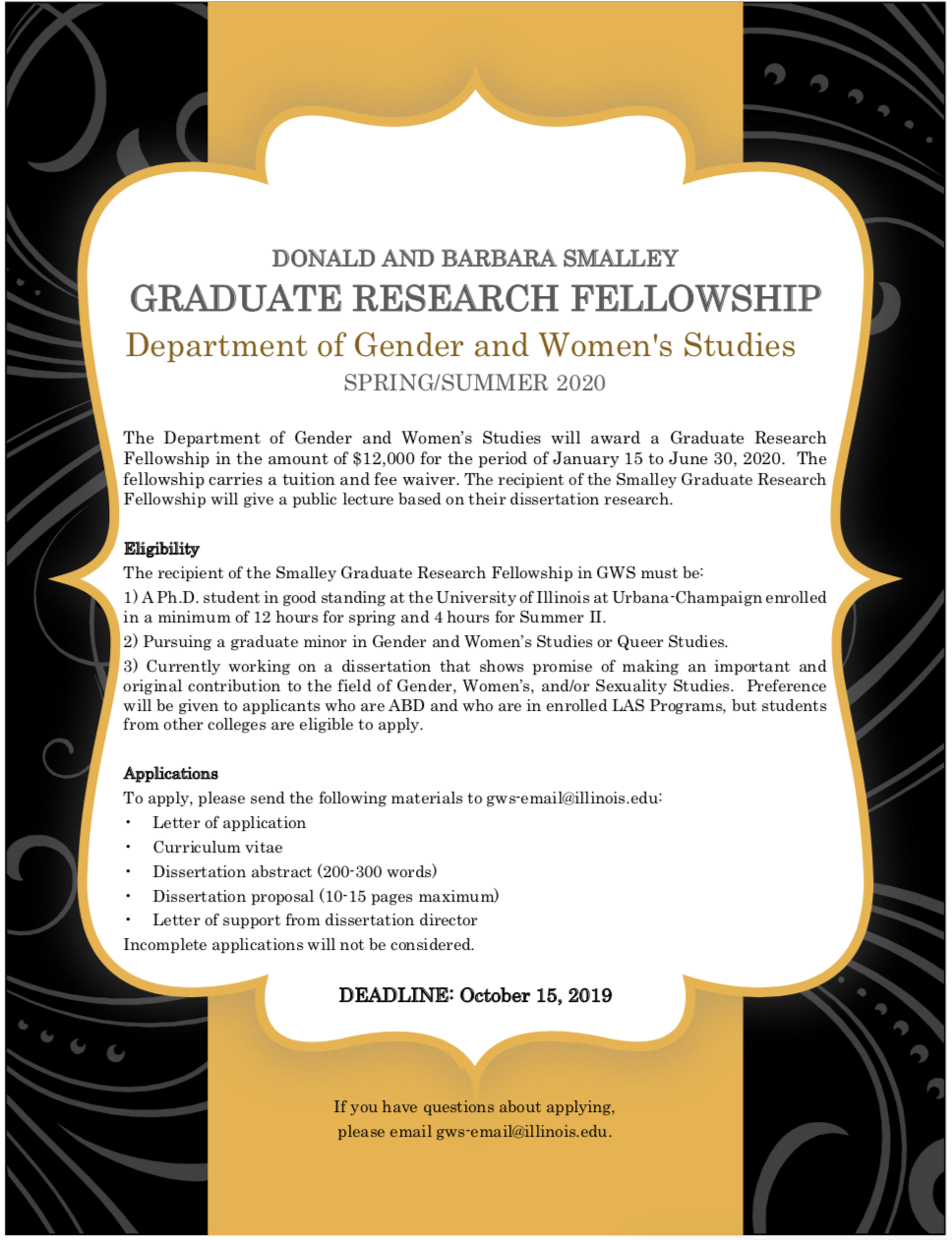 Past Recipients
2020 Tiffany Harris, Education Policy, Organization & Leadership, "The South Still Got Something to Say: An Atlanta-centric Analysis of Intergenerational Pedagogies."
2019 Olivia Hagedorn, Department of History, "'Call Me African': Black Women and Diasporic Cultural Feminism in Chicago, 1930-1980."
2018 Rico Kleinstein Chenyek, Institute for Communications Research, "Mediating Medical Alterities: Gendered Indigeneity, Racialization, and U.S. Medicine."
2017 Paul Michael Leonardo Atienza, Anthropology, "The Promise of Intimacy: Gay Filipinos on Mobile Phone Apps in Manila and Los Angeles."
2016 Jean Lee, Department of English, "Kala Pani Discourse, Jahaji-Bhain Poetrics and Double Diasporas."
2015 Melissa Villa-Nicholas, Library and Information Science,"Towards a Critical Latina Technology and Information Studies: Latinas in the Bell System, 1973-1984."
2014 Dominique C. Hill, Education Policy, Organization & Leadership, "Transgressngroove: An Exploration of Black Girlhood, The Body, and Education."
2013   Megan Condis, Department of English, "The Politics of Gamers:  Bodies and Identities in the Age of Digital Media."
2012   Peter Campbell, Department of Communication, "Queer Epistemologies of Process and Equality: Judicial Fourteenth Amendment Arguments and the Production of Queer Subjects Before the Law."
2011  Reshmi Mukherjee, Comparative and World Literatures, "'Who Speaks for, with and to Me?' Subalterneity, Agency, and the Politics of Representation in Postcolonial Women Writers." 
2010  Chamara Kwakye, Educational Policy Studies, "Loud Silence: Learning to Read, Learning to Speak. Life Histories of Black Women in the Academy." 
2009  Natalie Havlin, Department of English.  "Cultures of Migration: Race, Kinship and Coloniality in U.S. Print and Visual Culture, 1927-1939."