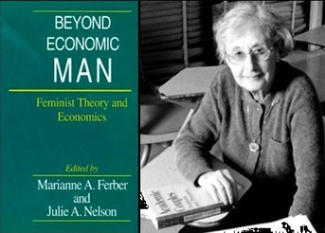 The Marianne A. Ferber endowment was created to honor Marianne A. Ferber's thirty-eight years of excellence at the University of Illinois in scholarship, research, and teaching on the behalf of women. $2500 will be awarded annually to a graduate student with the most outstanding dissertation proposal related to Gender and Women's Studies.
Twice director of the Women's Studies Program and Professor Emerita in Economics, Professor Ferber's colleagues and friends felt that her inspiring legacy to women would be best honored through the promotion of feminist scholarship.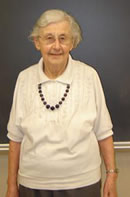 Graduate students from any discipline may apply for the Marianne A. Ferber Graduate Scholarship in Women's Studies.  This $2500 scholarship for the 2020-2021 school year will be awarded for the most outstanding dissertation proposal related to Gender and Women's Studies. Secondary considerations will include the student's demonstrated commitment to Gender and Women's Studies and financial need. 
Guidelines and Application Form 2020 
Deadline: March 1
Previous Award Recipients:
2020 Shwetha Delanthamajalu, Sociology, "Moral Panics and Policing of Sex and Love in the Time of Hindutva."
2019 Megan Gargiulo, Spanish and Portuguese, "Race, Gender, and Recogimiento: Discursive Negotiations of Space, Sexuality, and Productivity in Late Colonial Mexico."
2018 Saniya Ghanoui, History, "Hot-Blooded Teens and Silver Screens: Transnational Sex Education between the United States and Sweden, 1910-1960s."
2018 Taylor-Imani A. Gates, Educational Policy Studies, "Revolutionary Mothering: Black Mothers' Coping and Resiliency in Englewood."
2017 Christine Peralta, History, "Medical Modernity: Rethinking U.S. Colonial Practices in the Philippines and the Health Work of Non-elite Women (1870-1948)."
2016 Paul Michael Leonardo Atienza, Anthropology, "Mobilizing Digital Selves: Tracking Queer Intimacies and Fleeting Socialities in Mobile Apps of Gay Filipino Diasporas."
2015 Shantel Martinez, Institute of Communications Research, "Haunted belongings: Testimonios of body and home as autoethnography."
2014 Molly Hyo J. Kim, Institute of Communications Research, "Women at 'Disposal': Censorship, Gender and Culture of South Korean Hostess Films (1974-1982)."
2013  Amaziah Zuri Finley, Department of Anthropology, "'They Want to Wash Us Out…We Ain't Going Nowhere": Black Women, Vulnerability, and Resistance in Post-Katrina, New Orleans."
2012  Jungmin Kwon, Institute of Communications Research, "Spectacularizing the queer body: When Korean straight females appeared."
2011  Ozge Sensoy Bahar, School of Social Work, "Low-income Kurdish mothers' experiences with displacement to a metropolitan city: Challenges, coping strategies, and aspirations."
2010  Genevieve Clutario, Department of History, , "Woman Enough?": Constructing Filipina Womanhood, Filipino Nationalism, and Empire."
2009  Kerstin Rudolph, Department of English, "The Race for the Real: Representations of Black Womanhood in American Literary Realism, 1868-1900."
2008  Emily Skidmore, Department of History, "Exceptional Queerness: Defining the Boundaries of Normative U.S. Citizenship, 1875-1936."
2007  Jillian M. Báez, Institute of Communications Research, "Between Spectacular and Ordinary Bodies: A Discourse Ethnography of the Latina Body and Popular Culture."
2006  Jin-kyung Park, Institute of Communications Research,
2005  Robin E. Jensen, Department of Communication, "Challenging Beliefs about Sex: The Gendered Rhetoric of Sexual Education Campaigns during the Progressive Era."
2004  Sherita Johnson, Department of English, "'Truth is Stranger than Fiction': Realities and Representations of Black Women in American Literature of the South."
2003  Diya Kallivayalil, Department of Psychology, "Mental Health Outcomes of South Asian Immigrant Survivors of Domestic Violence."
2002  Dawn Flood, Department of History, "Proving Rape: Sex, Race, and Representation in Chicago Trials and Society, 1937-1969."
2001  Jesook Song, Department of Anthropology, "South Korean 'Productive Welfarism' 1997-2000: The Reproduction of Heteronormative Familism."
2000  Elsa Beatriz Padilla, Department of Sociology, "Women's Organizing in a Global Context:  Activism Crossroads of Race, Class and Gender in Salvador, Brazil."
1999  Nicole Ranganath, Department of History, "Wedding Women to Tradition: Marriage in the South Asian Diaspora, 1965-1990."
1998  Michelle C. Johnson, Department of Anthropology, "Contextualizing the Excision Debate:  Women's Initiation and Personhood in Guinea-Bissau."