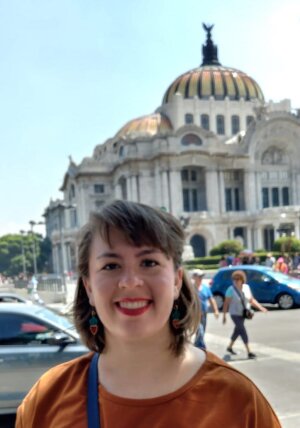 Biography
Megan is a PhD student in Hispanic literature from Long Beach, Mississippi.  She studied English and Spanish at the University of Mississippi for her undergraduate degree, and studied abroad for a year in Córdoba, Argentina. After graduation, she taught English for a year in Coria, Extremadura, Spain. She is currently a TA for Spanish 232. In her spare time, she enjoys playing with her dog, Max, attending group fitness classes, cooking, reading, watching foreign films, and traveling.
Research Interests
Colonial Latin America
Gender studies
Queer theory
Research Description
Megan's research focuses colonial Latin American literature. Specifically, her dissertation project examines the gendered and racialized violence enacted on women placed in state institutions in late colonial Mexico.
Education
MA in Spanish Studies - University of Illinois at Urbana-Champaign
BA in Spanish - University of Mississippi
BA in English - University of Mississippi
Grants
Grad College Dissertation Travel Grant (2018)
Awards and Honors
Tinker Fellow (Summer 2017)
Courses Taught
GWS 100
Spanish 122
Spanish 142
Spanish 130
Spanish 200
Spanish 204
Spanish 208
Spanish 228
Spanish 232
Additional Campus Affiliations
Highlighted Publications
Reviews
Review of (Forthcoming) Embodying the Sacred: Women Mystics in Seventeenth-Century Lima Hispanic Review, vol. 87, no. 1, 2018.